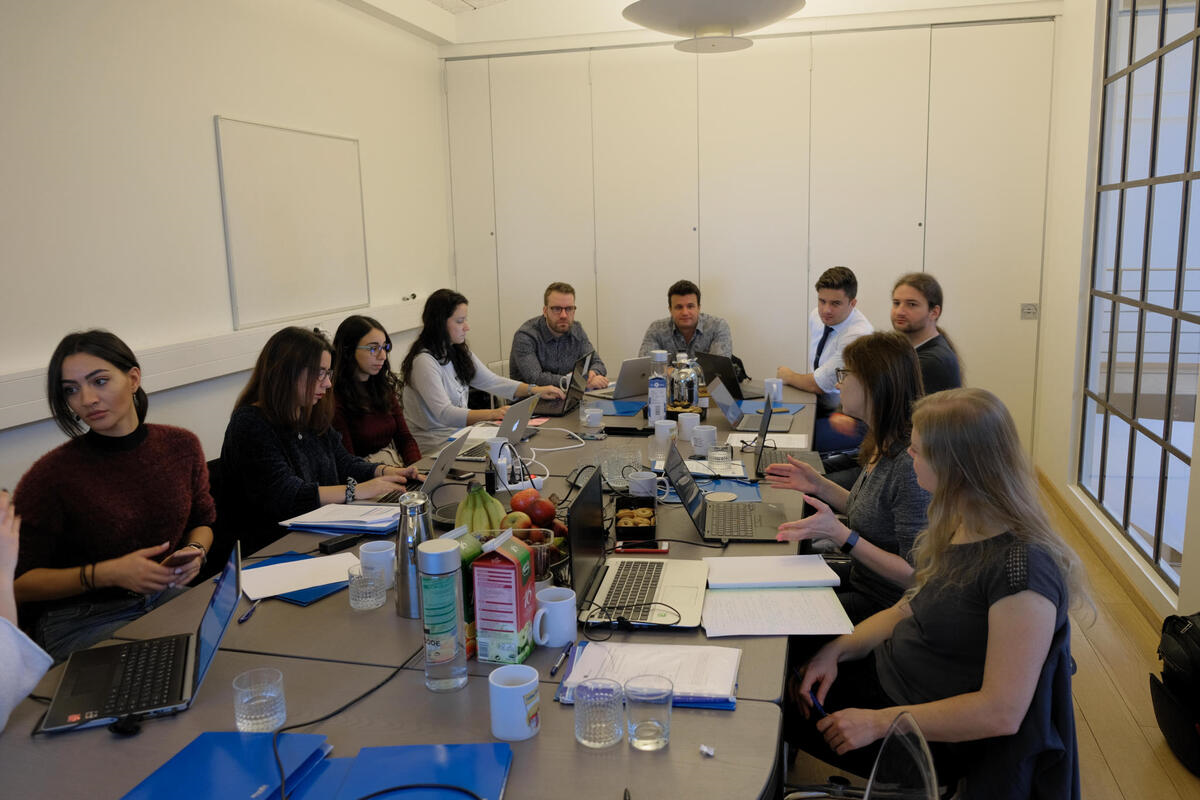 "Entrepreneurship is the Key to Success" Kick-off Transnational Project Meeting was held in Odense, Denmark between 26th-27th of November 2019, where all project partners took an active part in drawing the project development map for the next 2 years of milestones. The meeting was hosted by BrainLog in House of Code premises with the special support of Startup Odense.

The meeting started with a welcome note from Martin Savchev, CEO of BrainLog and a short presentation of all participants, and their organisations. Further overview of the project (as all the participants were well familiar with the project application) focused on major operational issues. First of all the target group was clarified. The primary target group are young adults especially NEETs in the age between 20-24. While the NEETs in the age 20-24 were underlined as point of focus for the group, the partnership will take into account different factors and therefore NEETs definition and age range can be extended between 20-30 old participants. Having in mind social inclusion policies, through EKS project we are interested to include everyone interested in entrepreneurship, having our main focus on young people.. As partnership discussed the local entrepreneurship environments differ in those matters. Secondary adult educators as future adopters will be engaged. The partnership will approach them as they are the ones that can use the outputs in training and education provided to young adults. Therefore, the project will include 1/ the IO1 simulation game providing entrepreneurship education aiming in the first place at the needs of youth and 2/ IO2 didactic handbook explaining how educators can use it. Based on the analysis of Gantt chart, taking into account the urgency of delivering the research, the partnership decided to strictly focus discussion on the tasks that need to be performed up to the 2nd project meeting. Possible dates for the meeting in Porto have been discussed and final dates were agreed for 6-7th of April 2020. It was further agreed that the 2nd meeting will take a form of workshops focused on development of specific model scenario that would serve as a model for remaining ones. To be able to achieve it, a research within target group needs to be finalised. Therefore, there is a high pressure to developing IO1/A1 ASAP.

To this end, CSI will provide the research framework and templates for collection of information until 16th of December. Each of the partners will collect minimum 30 responses to identify current skills and their development needs. The data collection needs to be finalised till the end of February. Report by CSI combining the desk research and questionnaires will be provided up till 30th of March.

The research needs to envisage what will be the exact objectives and directions of the scenarios.
Further, partners discussed division of scenarios. Firstly, some topics needed to be clarified. Especially collaboration with others was clarified as a collaborative approach to entrepreneurship and ability to take advantage of open innovation approach. Partners decided on the following division of topics:

1. Kainotomia – Creativity,
2. FYG – Complex problem solving,
3. LabC – Critical thinking,
4. K&C – People management,
5. E&D – Coordinating with others.

As the definition of NEETs differs between local contexts, CSI requested that all the partners provide their local understanding before they develop the research methodology and tools.
Further, the game expectations were discussed. It was clarified that the budget limitations require the focus on simple solutions and learning aspect rather than investing in graphical solutions. Possible limitations of digital skills among the future users should be also considered. BrainLog will look for possibility to look for complementary funding that could allow to further contribute to extending the project.
Anticipating future work, we discussed the EKS game scenarios development and template.
Based on the presented template:

- The game should for each skill provide 3 different levels and after each level it should provide feedback to the user. We can simulate real life scenarios as an interaction between a player and someone else.

- Each scenario will need to include short description. The description will introduce player to the problem.

- Scene description should be kept simple without too detailed description of environment.

- Tasks will offer different options with different answers. The game can be based on independent tasks or on decisive map of consecutive decisions. In that case the simulation will be probably more corresponding to real life scenario. However, an option choice needs to be careful as different scenarios should not finish in path with different length. That would cause problems with evaluation and progress monitoring of the player. Feedback needs to be based on points. All paths need to end up in the even possibility of points gaining. The final decision was postponed up to next meeting after the partnership will have the research results and better understanding of the needs and ideas for scenarios.

Partners though requested if it was possible than to get a specific map of how the task should be interacting to simplify the task and make sure all have the structure as agreed.

- We should ensure embedding learning contents in the game in interesting and hidden form.

Afterwards administrative issues were discussed. It was requested to make timesheets on regular basis and use the AdminProject to do so. Regarding dissemination plan BrainLog in the first place will propose 3 logos design based on the defined key words entrepreneurship, key, gaming. Website domain has been already established – eks.erasmus.site.
Taking into account the target groups two social media channels will be used – Facebook & LinedIn.
BrainLog will establish social media pages and calendar of responsibility. The responsibility for posting will rotate between partners monthly. At the beginning of each month BrainLog will assign a task in Admin to specific partners (2) responsible for social media during the specific month.

Further, partner from Italy requested a change of the meeting moments between Greece and Italy. Partnership agreed to the proposal. Such an option will be confirmed by Martin with national agency. Assuming that such change will be approved the dates of all the EKS TPMs were established as follows:

1. Porto – 6-7.04.2020
2. Greece – 29-30.09.2020
3. Spain – 29-30.03.2021
4. Italy – 07-08.09.2021

Know&Can followed with presentation of monitoring plan. It will focus on 3 aspects – project management, quality of created products and impact on all target groups. The evaluation following the presented evaluation and monitoring plan will be conducted every six months via AdminProject. That will result in a periodical report. Ten external evaluations will be included. Specifically, external experts will provide opinion on each of outputs – 2 experts. Further on partnership will decide on the profile of the experts to be involved. Responsibility for their mobilisation will be distributed among partners to be provided during the output development and/or piloting. Specific tasks in all categories together with their deadlines will be established via AdminProject by responsible partners.

About Startup Odense:

Odense is blossoming and the innovation and entrepreneurship environments in and around the city are plentiful. Numerous actors offer valuable facilities and events for those interested in these fields – with the aim of creating businesses that lead to employment and wealth. The problem is that there is a lack of overview of all the entrepreneurial activities, resources, and actors in the Odense region. The dispersed nature of the offers and the lack of overview decrease the exposure which these offers should have, and consequently their added value. This problem has been acknowledged by the majority of the key stakeholders, as well as the "Talent- og Iværksætterstrategi 2015 – 2020" by Odense Kommune and Odense & Co. Startup Odense has an online platform, which provides a solution through the collection of entrepreneurial activities, resources, and actors in and around the Odense region. The platform is for the community and by the community. All stakeholders of the platform are asked to get involved in both the development process and in the delivering content to the platform – in order to ensure its effectiveness and ergonomic nature.

About House of Code:

In the House of Code team are specialists in mobile platform apps. They are driven by their passion for simple and functional solutions that create value for the user. And they love to think creatively. House of Code work with all types of solutions for iOS and Android.

About EKS project:

The project aim is to develop relevant and high-quality skills and to support young adults in acquiring entrepreneurial competences with special focus on developing skills needed for the future entrepreneurs that will be inevitable for tomorrow's jobs but are not considered crucial for the jobs today (with special focus on: complex problem solving, critical thinking, creativity, people management and coordination with others). This aim will be achieved through:

• dybdegående undersøgelse af de nuværende undervisningsbehov for unge voksne, og fremtidens færdighedsbehov indenfor iværksætteri;
• skabelsen af et virtuelt E-Spil, som tillader brugeren at arbejde innovativt på disse færdigheder for at fremme folks deltagelse i arbejdsmarkedet og få dem til at spille en aktiv rolle i samfundet og opnå personlig opfyldelse;
• skabelsen af en didaktiskhåndbog for brugen af spillet;
• bred formidling og brug;

Primary target group: young adults, students and NEETs.

Sekundær Målgruppe: Voksne undervisere/facilitatorer inklusivt karriererådgivere, som arbejde i ikke-formelle uddannelsesrammer.

Den nye metode, som vi foreslår, er brugen af et online spil, som kan reproducerer virtuelle, plausible, eller hypotetiske situationer, hvor spillerne kan bruge og forbedre deres færdigheder. Spillets miljø vil sikre, at spilleren ikke føler sig presset eller dømt, men føler sig fri til at handle og bruge deres evner i praksis. Spillets scenarier vil være et resultat af en undersøgningsfase, udført af eksperter indenfor psykologi, rådgivning, erhvervsrådgivning, coaching, m.m. I slutningen af hvert niveau vil spillet producerer en rapport, som vil gøre spilleren bevist om de rigtige og forkerte træk de foretog, og hvordan de kan implementere forslagene i deres virkelige liv.