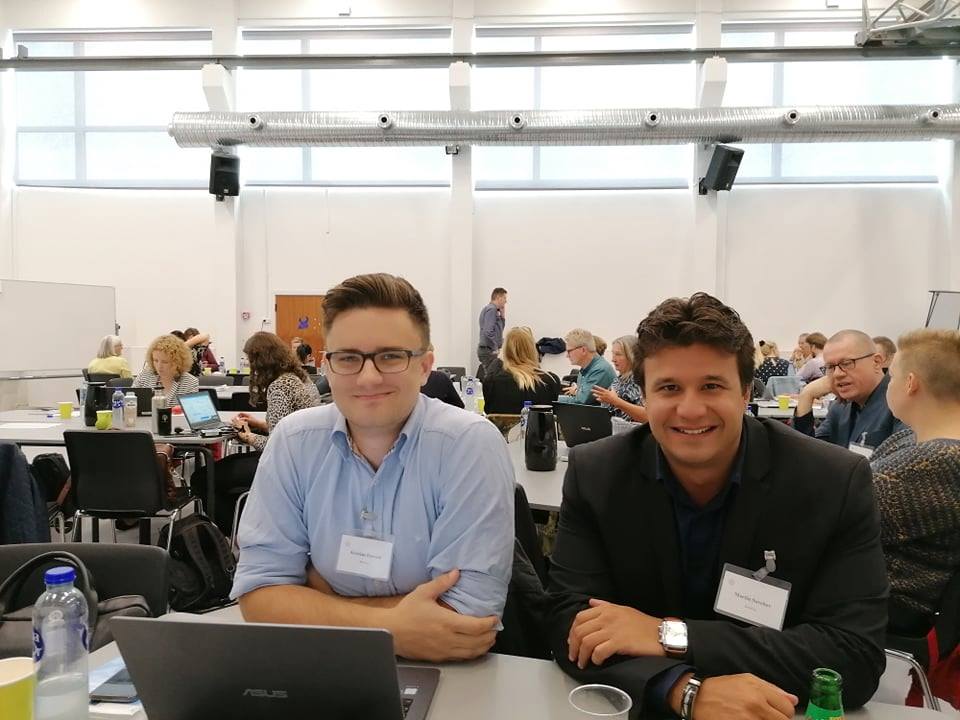 We are happy and proud to be invited to the Start Meeting of all approved Strategic Partnership Projects in Denmark. The meeting is organised by the Ministry of Education and Science of Denmark (Uddannelses- og Forskningsministerietand) hosted at UCL University College (UCL Erhvervsakademi og Professionshøjskole i Odense).

The reason of our presence at the conference is our approved Strategic Partnership Project - "Entrepreneurship is the Key to Success".

Projektets mål er at udvikle relevante færdigheder af høj kvalitet, og støtte unge voksne (specielt NEET, Ikke i uddannelse, beskæftigelse eller oplæring, i alderen 20-30) i opnåelsen af iværksætterikompetencer med special fokus på at udvikle de nødvendige færdigheder for fremtidens iværksætteri, som uundgåeligt for morgendagens jobs, men er ikke set som essentielle for nutidens jobs. (Med specielt fokus på; Kompleks problem løsning, kritisk tænkning, kreativitet, teamledelse og koordinering med andre.) Målet vil opnås gennem:

• deepen research of current training needs of young adults and skills needed for the future in area of entrepreneurship;
• creation of a virtual simulation game that allow to work innovatively on these skills, in order to foster people's participation in the labor market and make them play an active role in society and achieve personal fulfilment;
• creation of didactic handbook for using the game;
• wide dissemination and exploitation;

Primary target group: young adults, students and NEETs in age between 20 – 30 years old.
Sekundær Målgruppe: Voksne undervisere/facilitatorer inklusivt karriererådgivere, som arbejde i ikke-formelle uddannelsesrammer.
Den nye metode, som vi foreslår, er brugen af et online spil, som kan reproducerer virtuelle, plausible, eller hypotetiske situationer, hvor spillerne kan bruge og forbedre deres færdigheder. Spillets miljø vil sikre, at spilleren ikke føler sig presset eller dømt, men føler sig fri til at handle og bruge deres evner i praksis. Spillets scenarier vil være et resultat af en undersøgningsfase, udført af eksperter indenfor psykologi, rådgivning, erhvervsrådgivning, coaching, m.m. I slutningen af hvert niveau vil spillet producerer en rapport, som vil gøre spilleren bevist om de rigtige og forkerte træk de foretog, og hvordan de kan implementere forslagene i deres virkelige liv.
Then the consortium will realize the EKS game with different level of complexity and a Handbook supporting teaching/learning process with the use of the game. The game and the Handbook will be piloted within the target groups (students, NEETs and adult educators) in order to collect feedback and realize the definitive versions.