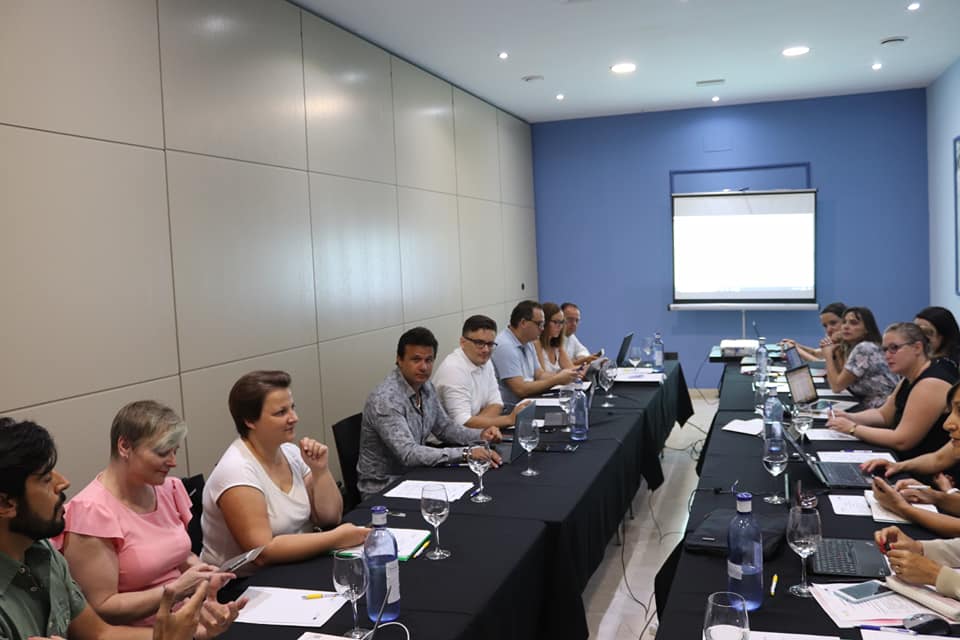 On 3rd - 4th of September in Granada, Spain, we had our closing meeting of T-box project. We all are very satisfied with the results of T-Box project and the interest among many teachers in order to use the developed products with their students. It was two very nice years working together with an excellent coordination and very good cooperation atmosphere with all partners.
We do really hope this project will help many teachers and students.

During the meeting the following topics related to the project were discussed:

Welcoming and practical information regarding the meeting;
IO1 – Presentation of the results from the national testing of the T-BOX cards
IO2 – Presentation of the T-BOX Mobile App (available for iOS and Android);
IO2 – Presentation of the results from the national testing of the app (participants; organization; feedback);
IO2 – Finalization of the app; Reports from testing; Common report; Improvements;
Dissemination activities – current situation and future actions;
Evaluation and quality assurance – current situation and future actions;
Presentation on the current financial issues. Documents needed for preparation of the final report;
Questions and discussions of financial and administrative topics;
Review of the working plan and remaining deadlines;
Distribution of tasks among partners;
Questions and review of the meeting;


About T-box project

Main focus

One of the biggest challenges in the educational system in Europe nowadays, is the early school leaving of students in V-VII grades. Coming out of primary school the level of demotivation across pupils in this educational stage has been steadily rising. The long term negative consequences from this trend are isolation and low educational achievements.
Most of the educational experts share the opinion that one of the key factors influencing the students' motivation and engagement in the educational process is the effective pedagogical approach, which naturally turned teachers the main target group of the project.
Ten organisations (5 schools and 5 training providers) from five European countries (Bulgaria, Poland, Spain, Portugal, Denmark) gathered together with the purpose of creating an innovative educational method to support the teachers from different subjects during their everyday work with pupils in V-VII grades. The general goal of the innovative tool is to enhance the capacities of the teachers to stimulate active engagement and to maintain sustainable motivation for learning among the students.

Target groups

Through implementing T-BOX project, we would like to support teachers working with pupils in V-VII grades. We distinguish 3 subgroups of teachers:
1. Innovators and inspirators – they are already transforming their classroom environment and boost motivation of their pupils through their own teaching style. Our project will provide them with further assurance they are on the right track and new methods to keep on with their good work.
2. Mainstream – they comply with requirements of the education system, but are not willing to be proactive in trying new ideas and methods. Our T-BOX will inspire them to be more creative and dedicated.
3. Demotivated – this group is hardly complying with requirements of their job and is highly unpopular among students. Our project will try to revive their motivation for work.

The innovation

The T-BOX (or Teacher's Box) consists of multilingual set of cards containing descriptions of methods/activities for interactive work with pupils to be practiced in the classroom, which can raise pupils' interest and motivation to learning. The T-BOX provides a selection of 50 activities that can be used by any teacher in any subject, without need of specific training, huge time recourse and complex additional materials. The cards are grouped in 5 categories: "Move it"; "Feel it (emotions)"; "Sense it (the 5 senses: hearing, taste, smell, touch, vision)"; "Think it"; "Express it".
The second innovative project product is the T-BOX mobile application which is based on the T-BOX set and is enabling additional functions like rating, sharing and links to additional resources.