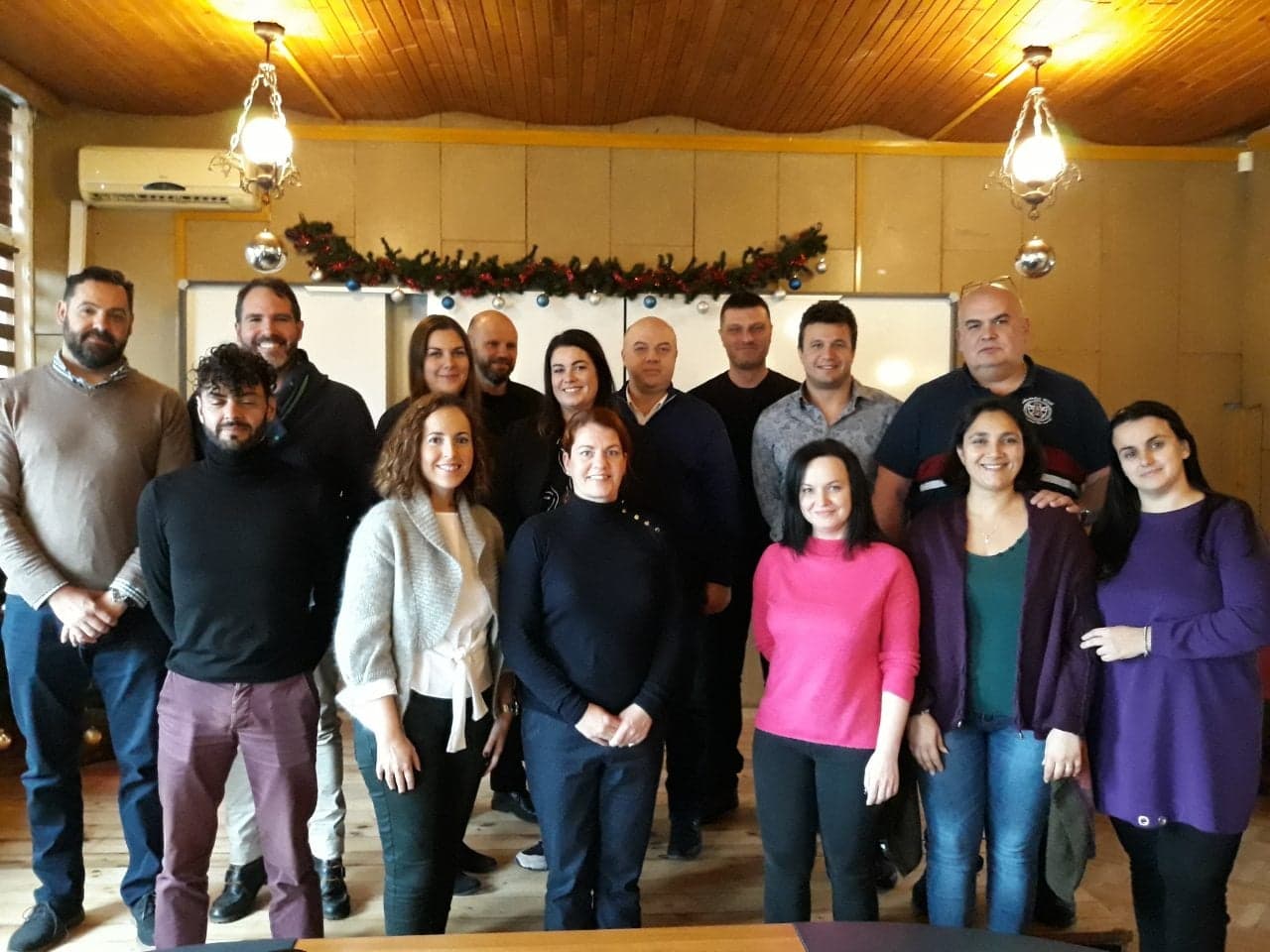 BrainLog team is proud to have been present at the UNEX T-YOU international project meeting in Sofia (Bulgaria) on 2nd and 3rd of December. The meeting was organized and hosted by our Bulgarian partners – K&C Association and 93 Secondary School "Alexander Teodorov - Balan". All project partners from Denmark, Poland, Spain and Bulgaria kick-started the project by discussing:

- The general project activities;
- General project concept;
- Partners' responsibilities regarding the aims and project outputs;

Furthermore, all Intellectual Outputs were revised and discussed among all partners with design ideas and development suggestions.
Presentation of financial proceedings, reporting requirements and contracts was carried out by K&C Association. BrainLog presented the evaluation and quality assurance strategy that will allow the project to take the necessary corrective measures in time. The evaluation will cover the entire duration of the project and by analyzing all aspects of the process, it will also function as a monitoring and control tool. In fact, Brainlog (DK) will be responsible for taking interim measures in cases of deviation from the planned work plan.

About UNEX T-YOU:

The idea of the project arose as a response to the growing problem in the partner countries that many students are experiencing great difficulties in reading comprehension, writing well-structured texts and proper oral presentation. After numerous educational observations the following difficulties that student frequently faces were spotted: insufficient mechanical mastery of reading and writing, poor oral and written expression of the students, lack of vocabulary appropriate to their age and poor quality of reading comprehension, lack of motivation towards reading by students and their families, difficulty in its development when it comes to getting data, low capacity in locating information sources adapted to specific needs and inability to present the most important information.
According to our observations, students with difficulties in composition of words and generation of ideas generally do not develop cognitive processes or adopt adequate strategies to respond to the demands of writing and are not able to coordinate the various processes and skills required for text composition. These students do little planning before writing and dedicate little time to prewriting activities. A short-term consequence is the development of texts with poorly related ideas and the long-term consequences are the risk of early school leaving and /or low educational achievement.
The project aims an enhancement of critical thinking through 4 intellectual products in which the observation, reflection and critical expression of ideas referring to current interests of students will be enhanced.

Nowadays critical thinking is one of the most mentioned competences on the educational landscape.
This is due to the fact that the world of work increasingly requires workers who are independent, decisive and analytical. So critical thinking, like other skills, should not only be worked on in the classroom but should also be encouraged by families. But the classroom has to be the place where the bases of the skill should be made.
The teaching of critical thinking varies basically. There are experts, such as Prof. Edward De Bono and Prof. Reuven Feuerstein (Maclure & Davies, 2003), who claim that it can be taught individually, independently of the subjects of the school curriculum, and such that claim that thinking skills are taught through the disciplinary areas. The key is about designing strategies that radically transform the teaching of the subjects in the school curriculum (Maclure & Davies, 2003) focusing not on the content, as they usually do, but rather taking the subject as a workhorse on which to teach oneself to think and where the intellectual faculties of the students are generally strengthened. (Aznar, I.2017)
UNEX T-YOU PROJECT will be a good tool for students to develop their comprehensive and expressive abilities. The development of these abilities will contribute positively to their formation as integral individuals who can actively develop society in the future.
UNEX T-YOU PROJECT will be an enriching tool with which we will provide students with knowledge, resources and skills necessary to make correct use of language both orally and in written. On the other hand, with UNEX T-YOU teachers will have an elaborated material in which they will find the necessary tools to motivate the students in a participative, inclusive and innovative way.

Our project is connected to progress, improvement, creation, change and inclusion. The partners agreed that the 20 units of learning work will be a good tool to promote the critical thinking of students aged 14 to 16 years which will lead to:

- Enhance reading comprehension inside and outside the classroom. - Create reader's capacity of evolving.
- Awaken and increase students' interest in reading.
- Enrich ones vocabulary, favoring expression, oral and written comprehension.
- Develop the capacity of attention-concentration through the different related activities.

At the end of the pilot courses students are expected to be able to read, understand and write various kinds of text, (journalistic, literal, personal, etc.) and express themselves orally in front of an audience. And teachers will be supported with innovative tools for work. The general objectives of the UNEX T-YOU PROJECT are to:

-Improve reading comprehension of students.
-Correct spelling mistakes.
-Reinforce texts writing.
-Use reading as an instrument for searching information.
-Make reading a source of pleasure.
-Develop imagination, fantasy and creativity.
-Promote critical spirit.
-Practice reading silently and loudly.
-Develop active listening.
-Develop active responding.

This will be achieved through a set of concrete and measurable objectives:
- Develop a set of 20 multilingual work units.
- Develop a multilingual website for a wider exploitation of the methods created.
- Promote the whole UNEX T-YOU set at schools.
UNEX T-YOU PROJECT is carried transnationally to maximize the specific knowledge and expertise of teachers across Europe.