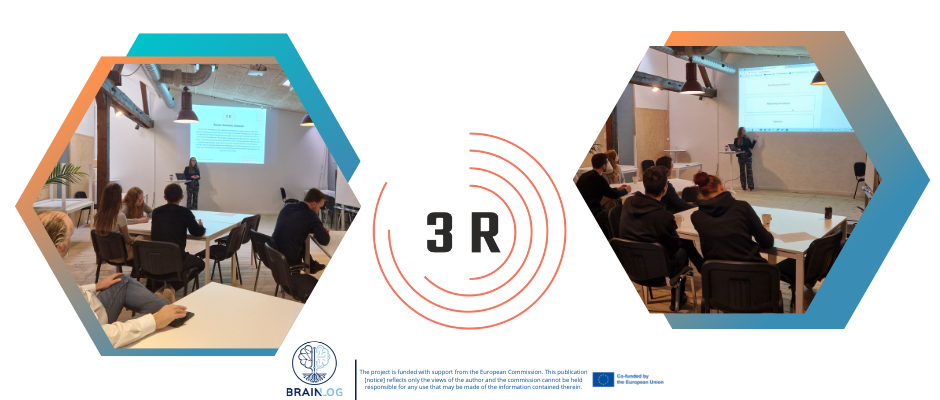 BrainLog organized a Multiplier Event for the Erasmus+ project 3 R (Respire, Remember, Respond) at the end of February. The project aims to enhance social adaptability and resilience through emotional intelligence, to reduce the rate of recidivism through educational materials focused on emotional intelligence.
The project's products are designed to support the users in developing emotional regulation skills, improving their memory and cognitive processes, and enhancing their interpersonal communication abilities. By promoting emotional intelligence, the 3R project aims to provide tools for successfully navigating challenging situations and making positive societal choices.
During the event, participants had the opportunity to explore the developed project results and evaluate them. The final products included a list of 10 primary emotional skills, two training pills, and two learning tools (toolbox) for each defined skill. Information notes on the project and links to online resources were also provided.
A total of 20 participants were present at the event, and exciting discussions were formed around participants sharing their experiences with challenging situations in the workplace. Participants emphasized the benefits of the developed 3R educational tools and materials, particularly in terms of enhancing emotional regulation skills and improving communication abilities.
Overall, the Multiplier Event organized by BrainLog was a great success. The 3R project's products were well-received by the participants, and the event provided an opportunity for valuable discussion and feedback. The project's focus on emotional intelligence and resilience is particularly relevant in today's world, and the 3R project's efforts to reduce recidivism through educational materials are commendable.